Promote Your Event
Your event in their inbox with our powerful email invitation platform
Upload targeted mailing lists to send branded email invitations. Each invitation is personalized to the specific contact so you can track metrics on everyone in your list.
click image to enlarge
Let the buzz be spread with social marketing widgets
Visitors and attendees to your event website can spread the word on the most popular social networks with the Facebook Like, LinkedIn Share, and Twitter Tweet buttons. You can also include your existing Facebook account or stream your Twitter feed directly into your event website.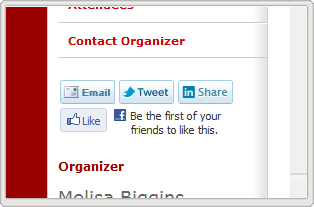 click image to enlarge
Generate QR codes for marketing materials
Whindo will generate QR codes for your events that can be applied to your marketing materials. When scanned from a mobile device using popular scanning apps like RedLaser, users will be redirected to the mobile version of your event website.
click image to enlarge
Measure your marketing efforts with tracking codes
Create custom tracking codes to gain insight into which sources most effectively increase attendance so you can reduce marketing cost by focusing on areas that yield the highest return. Whindo includes a built in set of tracking codes that are integrated into each event website.
Learn more
.
click image to enlarge
"The features are OUTSTANDING!!!! Most other places charge an arm and a leg for some of the features that Whindo has but Whindo is free or 99 cents if you collect payments from it. Also the support is great - having called a few times to speak to support I have gotten my problems/answers resolved quickly.
Brandon D.
- Fort Worth, TX